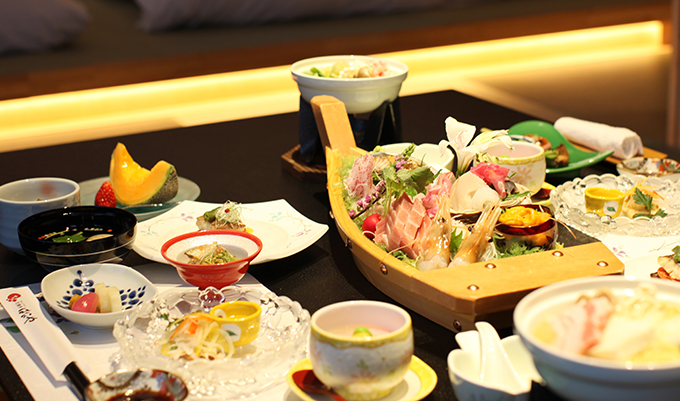 Dinner

Enjoy a peaceful, relaxed dinner in your room

Dinner is served in your room so that you can enjoy your meal to the fullest extent.
Dining in a private space lets you fully enjoy the meals that we prepare with dedication, giving you an experience that can only be found at a Japanese inn, which our guests enjoy very much.
Example dinner menu

Assorted appetizers / vinegared dish / sashimi / steamed dish / grilled dish / main course / pickles / soup / fruit
*Seasonal menus change once every 3 months. *Food photos are for illustrative purposes.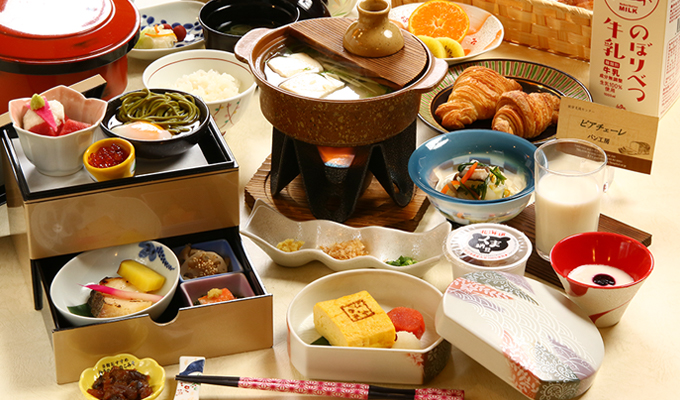 Breakfast

Start your day with a delicious breakfast

We make breakfast with our guests in mind, in the hopes that they can eat a big meal to give them the energy to fully enjoy their day.
We also offer milk, tofu, and natto from the local Noboribetsu Dairy Farm.
Please try the croissants from a local bakery as well♪
Example breakfast menu

Grilled fish / pickles / freshly made Japanese-style rolled omelet / simmered dish / miso soup / rice / yogurt /
hot or chilled tofu / grated yam
*Breakfast is served in the Dining Hall. *Seasonal menus change once every 3 months. *Food photos are for illustrative purposes.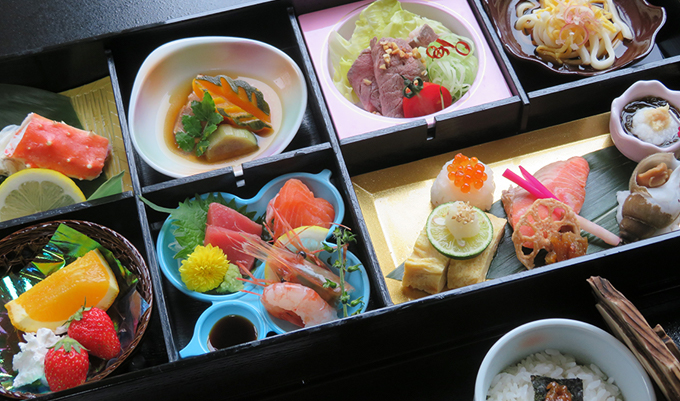 Lunch (Kasho Box Lunch)

Popular plans also include a hearty box lunch and hot spring bathing with no need to bring luggage♪

Lunch (Kasho Box Lunch) is available by reservation only and must be confirmed at least one day in advance.
Choose from enjoying your box lunch in a private room (low table seating) or at a table in the Dining Hall. Plans that include hot spring bath admission are available as well.
Lunch options that do not require reservations are also available. Please feel free to stop by.(occasional closures)
Our Chef's Commitment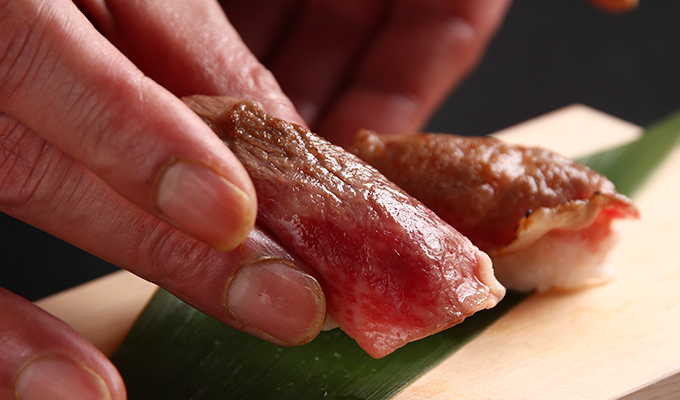 Dedicated to our guests enjoying seasonal and locally grown ingredients
We receive guests from Hokkaido as well as all over Japan, and even from abroad, and strive to offer delicious meals to them every day.
Please enjoy a moment of bliss during your meals here.